For Sale
Whitetail Bottom Ranch
$550,000 firm


Mississippi Deer Hunting land for sale, Mississippi Turkey Hunting Land for sale, Mississippi Farm Land for sale.

Recreation

Whitetail Bottom Ranch has some of the best Trophy Whitetail deer, and Mississippi turkey hunting located in the Lafayette County Mississippi area. This is a Mississippi quality, investment, recreational land and timber farm.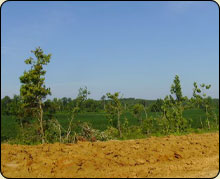 Harvest
Pines replanted in the fertile Mississippi soil always grow a premiere crop of trees. This is a quality, investment, recreational property tree farm.

Hardwood
Reforested with planted pines, this is a quality, investment, recreational property timber pine plantation.




Whitetail Bottom Ranch Cabin

A 2100 square foot lodge can be built and will be included, completely finished. If you choose for $150,000 more.

CLICK HERE for more details




Whitetail Bottom Ranch Legal Discription

CLICK HERE for maps and a legal discription of the Hardwood Haven property.





Whitetail Bottom Ranch is 220 acres of pine and mixed hardwood bottoms. This Lafayette County Mississippi property is loaded with whitetail deer and turkeys. This Mississippi investment property is located near Mississippi Highway 331, Southeast Lafayette County, Mississippi. It is offered for sale for $550,000. Agent Lynn Callahan can show it. The GPS coordinates to view it are 34.18084,-89.35918. This is a premium investment property for sale..


Contact us today at properties@thackermountainlodge.com
or call us at 662-871-8953



| | |
| --- | --- |
| | Open fields are perfect for establishing food plots for wild game. |
Thacker Mountain Lodge Timber and land, Property division offers hunting and fishing property for sale. If your investment property group wants to buy mid-south hunting property, Mississippi hunting land for sale, Mississippi homes, Mississippi farms, Mississippi ranches and hunting property, Mississippi hunting property, mid-sized hunting property, or Mississippi recreational hunting property, Thacker Mountain Lodge Timber and land Property Division can help.

Need Mississippi hunting leases, mid-south hunting and fishing spots, Mississippi real estate, homes, farms, ranches, and  Mississippi deer hunting, deer hunting land for sale in Mississippi, Thacker Mountain Lodge land and timber property division can supply what you need.

If you and your investment business partners are looking for hunting properties, mid –sized hunting property for sale in Mississippi, southern land for sale, Mississippi land and timber, Mississippi forestry land, Mississippi timberland, Mississippi delta hunting leases, or Mississippi ranches, you have come to the right spot Thacker mountain Lodge timber and land, property division is the perfect investment timberland company in Mississippi to help you with your needs.

Thacker Mountain Lodge land and timber property division has for sale Mississippi timberland, for sale commercial property, for sale Mississippi  land, for sale Mississippi real estate, for sale Mississippi property, for sale Mississippi acreage , for sale Mississippi  farms, for sale oxford Mississippi real estate, for sale oxford Mississippi homes, for sale oxford Mississippi football rentals, for sale oxford Mississippi condos, for sale oxford Mississippi retirement homes, for sale Mississippi recreational property, for sale Mississippi investment property, for sale delta duck hunting property, for sale Mississippi duck hunting property, for sale Mississippi outdoor property, for sale Mississippi country homes, Thacker Mountain Lodge land and timber property division  has for sale just about any Mississippi land, timber, real estate, commercial, or property needs you might have.

Thacker Mountain Lodge land, timber property division also buys land and timber, Mississippi land, Mississippi investment land, and Mississippi timber, and Thacker Mountain Lodge timber, land and property division also offers Mississippi land management, Mississippi premium investment property, Mississippi premium properties, Mississippi investment income property, Mississippi delta premium property and Mississippi premium delta investment property. If you or your investment group is looking to get out of the stock market and purchase or invest in Mississippi land, timber, ranches, property, farms or Delta land, call The Thacker Mountain Lodge land, timber property division today or email us at properties@thackermountainlodge.com