Tours

Thacker Mountain Lodge offers, for sale Premium Mississippi, Delta, and Mid-South, land, ranches, farms, investment, recreational , timberland ,and commercial property. Thacker Mountain Lodge also offers Ole Miss football tailgating ,Grove, catering, Tent setups and Takedowns, and Guided Mississippi quality and Trophy Whitetail deer, Turkey and Delta Duck hunts in the Mississippi Delta, The Mid-South, and The Mississippi Hills. Thacker Mountain Lodge also offers Ole miss football and Oxford, Mississippi weekend rentals, bed and breakfast and overnight stays, for private parties. Watch The Thacker Mountain Lodge Outdoors hunting and fishing show live on the Thacker Mountain Lodge Outdoors live pod Cast.


Team Members
Our management guide team includes Wayne Soper as the General Manager. Head Guide, Wayne has guided at Hopewell Farms in Illinois, and has taken numerous pope and young deer. His relationship with John Lanier and Leo Allen of Bent Creek Lodge allows him the strength and knowledge to show our clients a true quality experience.

learn more

Thacker Mountain Property Management
Thacker Mountain Property Management offers land management of your acreage. 

Let us increase the value of your property by site prep, road improvement, fencing, establishing food plots, erecting shooting houses, and establishing a management program for your wild game. If you have existing lakes or ponds, we can offer stocking, mapping and resource management of these items also.

Thacker Mountain Property management can offer Real estate listings for your Acreage through Thacker Mountain Lodge Land and Property Division. Our Mississippi licensed agentsare affiliated with Thacker Mountain Lodge Land and Property Division. Let us help you sell your property.

learn more

Quality Guided Whitetail Deer Hunting Experience
We have some of the best Mississippi Delta Whitetail deer hunting land in the South available for our uses. Thacker mountain Lodge specializes in Quality management hunts, not Trophy Hunts, being that we expect you to have a great time and hopefully take a good deer and or a turkey and shoot some ducks. We limit our hunts to 8 or fewer hunters for deer and ducks and 4 or less for turkey.

We push the quality experience with great service, wonderful times, great food, memorable experiences and memories that will last a lifetime. It is our hope that you will come back year after year. You will hunt in covered shoot houses over looking beautiful green fields in the evening and ladder stands for the morning hunts, setup in creek bottoms or Oak Flats.

learn more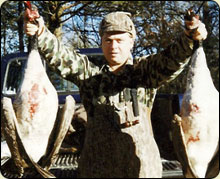 Mississippi Turkey and Mississippi Duck Guides
Thacker Mountain Lodge has on its staff some of the best Mississippi Delta Turkey guides available in the south. These men love to call up the big birds for you to shoot or if you just want camera shots or video.

Our Mississippi Duck hunting guides include James Davis who is widely known as one of the best callers in the South, and who owns BoBo Bayou Lodge, one of our premiere Duck Holes. Our duck lease include some of the best and hottest duck hunting available in the Mississippi Flyway and including the entire Mid South. Most of the land is in the Marks, Crowder, Inverness, and Webb Mississippi area. Most of the time we have thousands of ducks to hunt and many hunters only shoot greenheads.

"Good Friends, Great Times, Memories made Here" This is our pledge.

learn more
Mississippi Whitetail Deer Hunts and Tours

Thacker Mountain Lodge offers the best in Mississippi, Delta outdoor guided White Tail deer hunts and guided Mississippi, Delta Turkey and Mississippi, Delta Duck hunts. We push the quality experience with great service, wonderful times, great food, memorable experiences and memories that will last a lifetime.

CLICK HERE

to visit Hopewell Views if you are interested in guided hunts in Illinois.

more info



Mississippi Delta Guided White Tail Deer Gun Hunting:

Minimum 2-Day Stay , Still hunting only
1st day of gun season until December 25- $500/day
December 26 until January 31- $600/day
Includes lodging, all meals, transportation to and from the hunt, all processing of Deer
harvested

CLICK HERE for more Info on Whitetail Deer Guided Hunts

Mississippi Delta Guided Whitetail Deer Bow / Archery Hunting:

October 1 until 1st day of gun season- $300/day
1st day of gun season until December 25- $500/day
December 26 until January 31- $600/day
Includes lodging, all meals, transportation to and from the hunt, all processing of Deer
harvested

CLICK HERE for more Info on Whitetail Deer Guided Hunts

Mississippi Delta Guided Quail Hunting:

1/2 day - $200
Full Day, w/meals and lodging - $575
Includes lodging, all meals, transportation to and from the hunt, Includes lodging, bird
dogs, guides, all meals, transportation to and from the hunt, all processing of Quail
harvested

CLICK HERE for more Info on Mississippi Delta Quail Hunting

Mississippi Delta Guided Duck Hunting

1/2 day - $ 300 Morning hunt only { includes Calling guide and retriever}does not
include lodging
Full Day, w/meals and lodging - $575{ includes calling guide and retriever}Includes
lodging, all meals, transportation to and from the hunt, all processing of Ducks harvested

CLICK HERE for more Info on Mississippi Delta Guided Duck Hunting




Guests:

Guests of hunters are treated to lodging and 3 meals a day for $100/day (they may
bring a camera and take pictures)





Private Hunts:

Companies or individuals wishing to lease the Lodge can do so for a minimum of
8 hunters for a 2-day stay


| | |
| --- | --- |
| | |
Ole Miss football grove Tailgating-Mississippi Investment and recreational Property for sale-Oxford, Mississippi bed and Breakfast-Guided Mississippi Whitetail deer and Delta Duck Hunts-Outdoor Live Hunting and Fishing show

Thacker Mountain Lodge Timber and land, Property division offers hunting and fishing property for sale. If your investment property group wants to buy mid-south hunting property, Mississippi hunting land for sale, Mississippi homes, Mississippi farms, Mississippi ranches and hunting property, Mississippi hunting property, mid-sized hunting property, or Mississippi recreational hunting property, Thacker Mountain Lodge Timber and land Property Division can help.

Need Mississippi hunting leases, mid-south hunting and fishing spots, Mississippi real estate, homes ,farms, ranches, and  Mississippi deer hunting, deer hunting land for sale in Mississippi, Thacker Mountain Lodge land and timber property division can supply what you need.

If you and your investment business partners are looking for hunting properties, mid –sized hunting property for sale in Mississippi, southern land for sale, Mississippi land and timber, Mississippi forestry land, Mississippi timberland, Mississippi delta hunting leases, or Mississippi ranches, you have come to the right spot Thacker mountain Lodge timber and land, property division is the perfect investment timberland company in Mississippi to help you with your needs.

Thacker Mountain Lodge land and timber property division has for sale Mississippi timberland, for sale commercial property, for sale Mississippi  land, for sale Mississippi real estate, for sale Mississippi property, for sale Mississippi acreage , for sale Mississippi  farms, for sale oxford Mississippi real estate, for sale oxford Mississippi homes, for sale oxford Mississippi football rentals, for sale oxford Mississippi condos, for sale oxford Mississippi retirement homes, for sale Mississippi recreational property, for sale Mississippi investment property, for sale delta duck hunting property, for sale Mississippi duck hunting property, for sale Mississippi outdoor property, for sale Mississippi country homes, Thacker Mountain Lodge land and timber property division  has for sale just about any Mississippi land, timber, real estate, commercial, or property needs you might have.

Thacker Mountain Lodge land, timber property division also buys land and timber, Mississippi land, Mississippi investment land, and Mississippi timber, and Thacker Mountain Lodge timber, land and property division also offers Mississippi land management, Mississippi premium investment property, Mississippi premium properties, Mississippi investment income property, Mississippi delta premium property and Mississippi premium delta investment property. If you or your investment group is looking to get out of the stock market and purchase or invest in Mississippi land, timber, ranches, property, farms or Delta land, call The Thacker Mountain Lodge land, timber property division today or email us at properties@thackermountainlodge.com